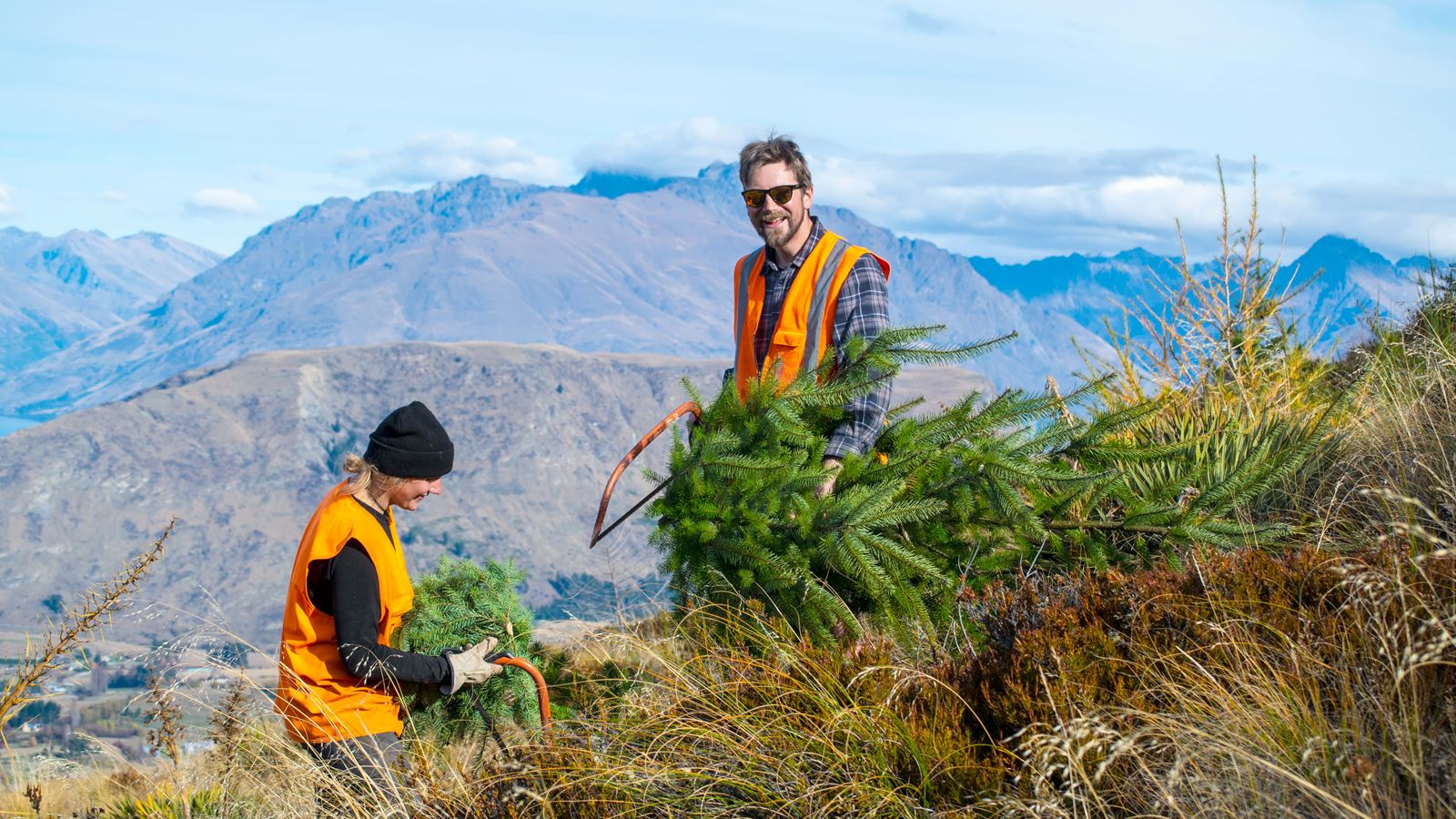 Coronet Peak's Happiness Trees
For the past few years, Coronet Peak has been working hard to get rid of wilding pines that harm our mountain environment. Assistant Ski Area Manager, Mark Sommerville, talks to us about the impact of wilding pines and how he came up with the idea of 'Happiness Trees'. 
Tell us a bit about yourself Mark:
I've been working full time, all year round at Coronet Peak since 2006. I started work as a ticket checker during school holidays and immediately fell in love with our ski area whanau. I was only planning to spend 3 weeks in Queenstown with a group of friends that I'd met whilst travelling Australia.  They had all secured work for the winter but I was planning to return to the UK. When I learned that the Wakatipu Basin hosted all of my favourite outdoor pursuits I decided to extend my visit.  A very common Queenstown story! I've had several roles at Coronet Peak including Head of Lift Operations, Head of Maintenance, Operations Manager and now ASAM.  I feel very privileged to work for a progressive family business that values loyalty and continues to invest heavily in its people and assets.
Tell us about wilding pines and the impact they have on our environment: 
'Wilding pines' is a NZ term for introduced conifers. They were initially introduced in the late 1800's and later incentivised to be planted by the government to ensure a steady supply of timber. 
There are over 10 different species of wilding pines growing in NZ, the most common being Radiata which thrives in lowlands and Douglas Fir which prefers mountainous environments. 
Conifers typically mature at around 6 years old.  Their cones open and release masses of wind-blown seeds which can travel several km's. Conifers compete for space with native trees and plants and eventually dominate the landscape with their ability to grow over 1 meter every year. Pine needles form an acidic carpet below them which inhibits plants and insects and starves native wildlife. 
Can you tell us a bit about the Happiness Trees project?
Happiness Trees was launched in 2017 and raised $5468 for the local community. For a minimum $20 donation, Coronet Peak staff will harvest a wilding pine from the side of our access road and deliver it to your door so you can decorate it for Xmas.
Limiting the spread of wilding pines on our mountain is an annual battle. This campaign assists our environmental sustainability, it helps to support Happiness House who do exceptional work caring for our community and it delivers festive joy to families who can enjoy a natural Xmas tree.
How did you come up with the idea?
My daughters Isla (10) and Kitty (7) would come and harvest a tree with me each Xmas. We would often get requests from friends and so we decided it would be a good idea to harvest lots and sell them for charity. Happiness House was suggested by some of our mountain whanau and Happiness Trees was a perfect name to launch the first campaign.
How many wilding pines have we eradicated from the mountain thanks to this project?
We've delivered 590 trees over the past 3 years and raised $14,899 for Happiness House.  We always harvest more than we need so that donors can choose their tree when we arrive at their door.  I'd estimate 750 trees have been felled as a result of this campaign.
What's the feedback been from staff who have taken part in volunteering on the project and people who have purchased the Happiness Trees?
Delivering the trees is so much fun. The joy and excitement of a Xmas tree being delivered is contagious!  The harvest crew work really hard to select the best looking trees.  It's a real team effort to get the trailers locked and loaded ready to deliver.  We always celebrate with a team breakfast the following weekend and our volunteer group is growing annually.
Will Happiness Trees be back this year?
The Wakatipu Wilding Conifer Control Group (WCG) recently spent 3 days eradicating all of the wilding pines from our harvest area.  They did an exceptional job which will help with our environmental goals for years to come. 
I was upset that we no longer have access to Happiness Trees though.  I'm discussing other options with some local land owners.  It would be great to continue this campaign and continue to raise money for the community during the festive period.  I'd be happy to hear from anyone who has vehicle access to 1m, 2m and 3m wildings!