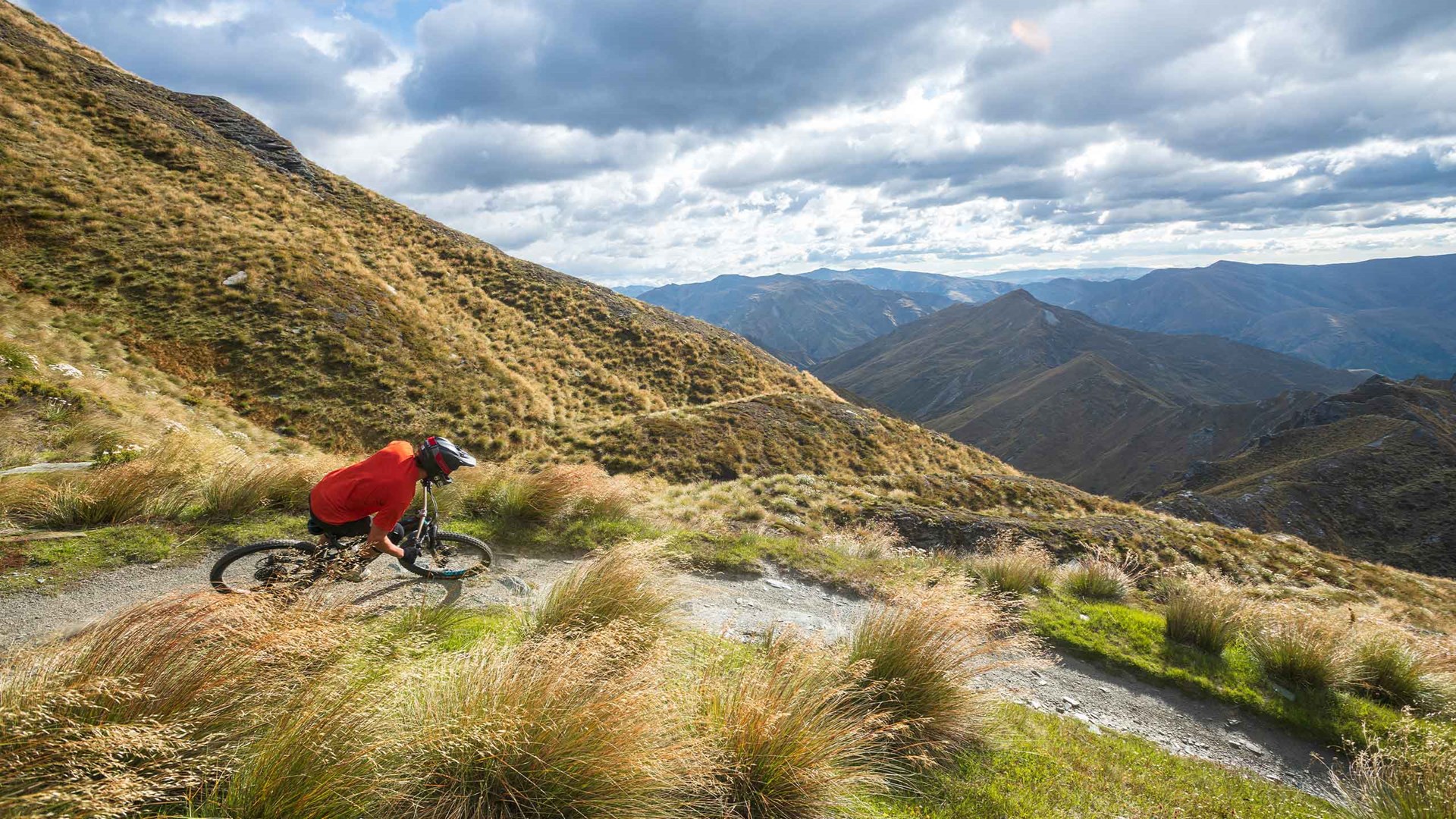 Coronet Peak
Mountain Biking
Time for dirt.
We're back and bringing you some extra vertical with the addition of Upper Rude Rock. You can't say you've done it unless you've started from the top! The Coronet Downhill and Coronet Cross Country tracks will be shaped up and manicured for your riding thrills starting from December 11th. A range of passes are available with a day, sunset or season pass on offer.
This summer we'll be doing late night Thursdays until 8pm, so you can still get away for some epic summer weekends. 
The Coronet XC trail is rated an intermediate Grade 3, while the Coronet DH trail is for the more experienced rated at expert grade 5. You can also access gain access to Slip Saddle (grade 6) and Upper and Lower Rude Rock (grade 4).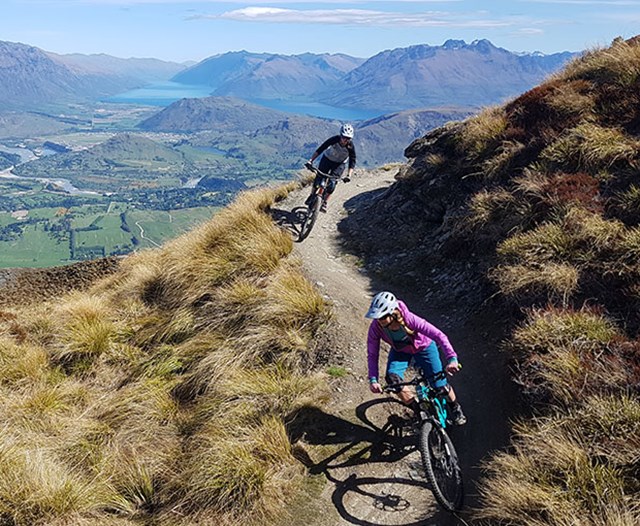 Day Pass
Valid 10:00am - 4:00pm
Enjoy all-day riding and with our new Express lift, you'll be getting faster laps and racking up the vert in no time! Loyalty discounts apply for winter 3 Peak Pass holders and QMTBC members.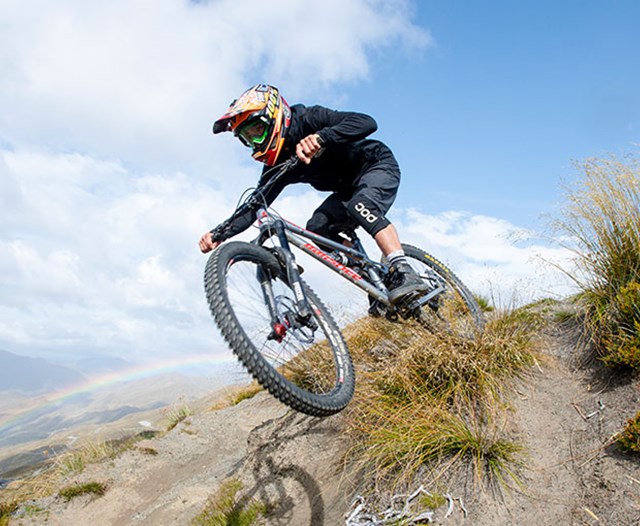 Can't get enough of the gravity rush? Grab a season pass so you can make the most of the downhill this summer. Loyalty discounts apply for winter 3 Peak Pass holders and QMTBC members.
Valid 11th Dec 2021 - 3rd April 2022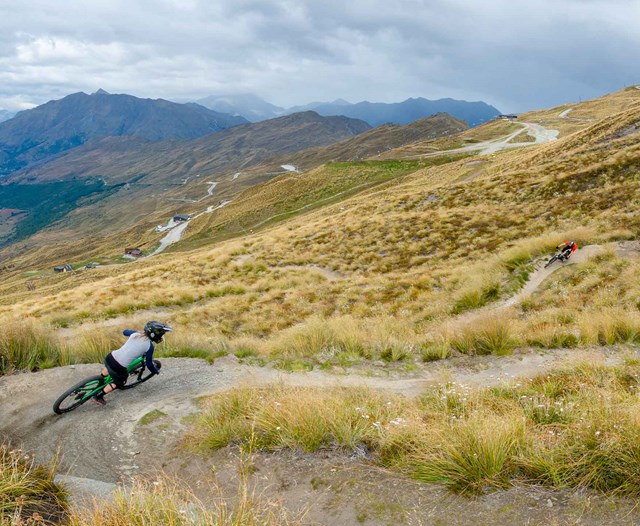 Hit the dirt after work with our much loved Sunset Pass. Golden hour of power, 4 hours to be exact.
Valid 4:00pm - 8:00pm every Thursday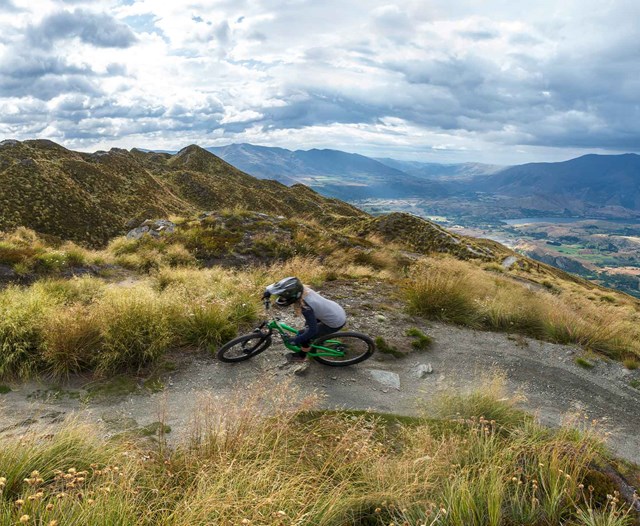 Maximise your time on the mountain and find the right fit for you with our MTB lift passes. Get your dirt fix on your time.
4 Hour Pass
Adult: $47 | Child: $27
10 Run Pass
Adult: $125 | Child: $75
10 scans on the chairlift - can be used anytime during the summer season.
Single Run
Adult: $25 | Child: $15
Single MTB Chairlift Use
Summer Trail Map
The Coronet XC trail is rated an intermediate grade 3, Upper Rude Rock rides fast at a Grade 4, while the Coronet DH trail is for the more confident rated at expert grade 5. You can also access Slip Saddle which is a Grade 6 for those of you looking for some ice cold adrenaline.
Summer Trail Map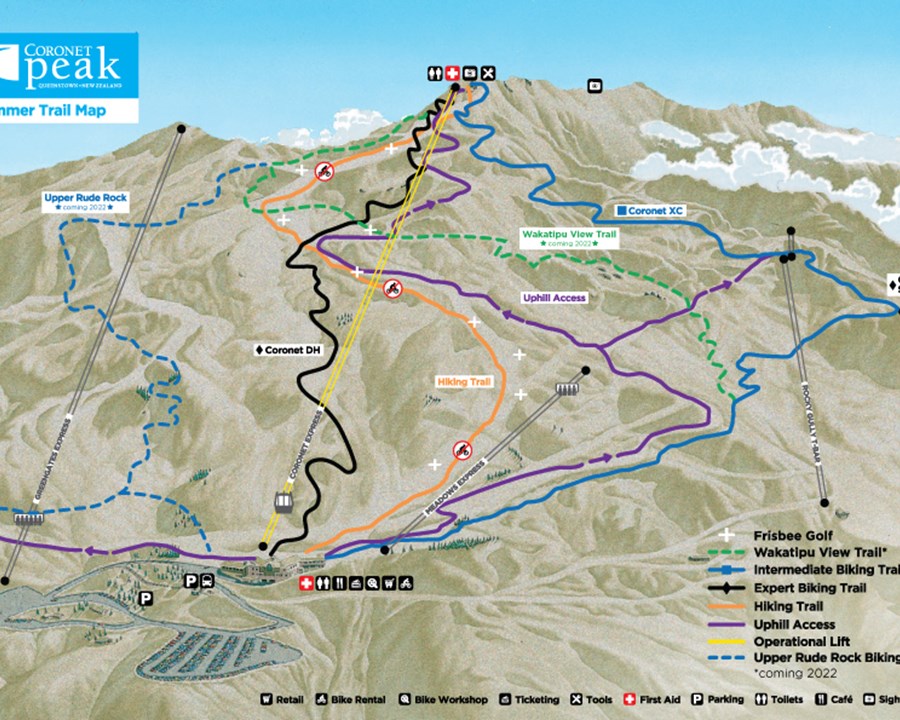 MTB Events
Our event listing for the 2021/2022 summer season is fully stacked with mountain bike races, running events, music concerts and family favorites. For all up to date info, have a look at our mountain event page.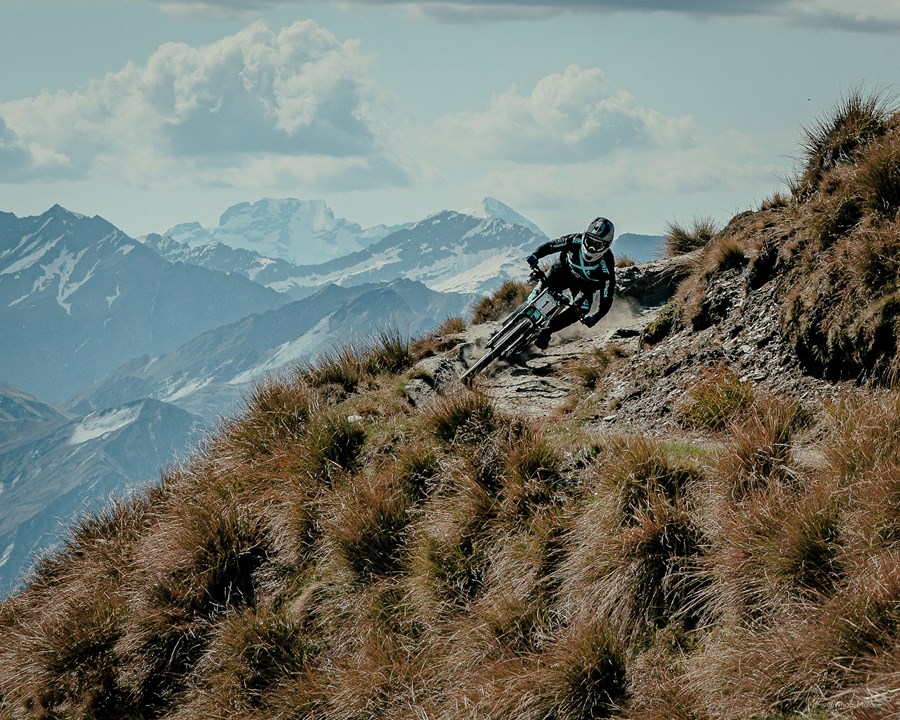 Meet the athlete
Jess Blewitt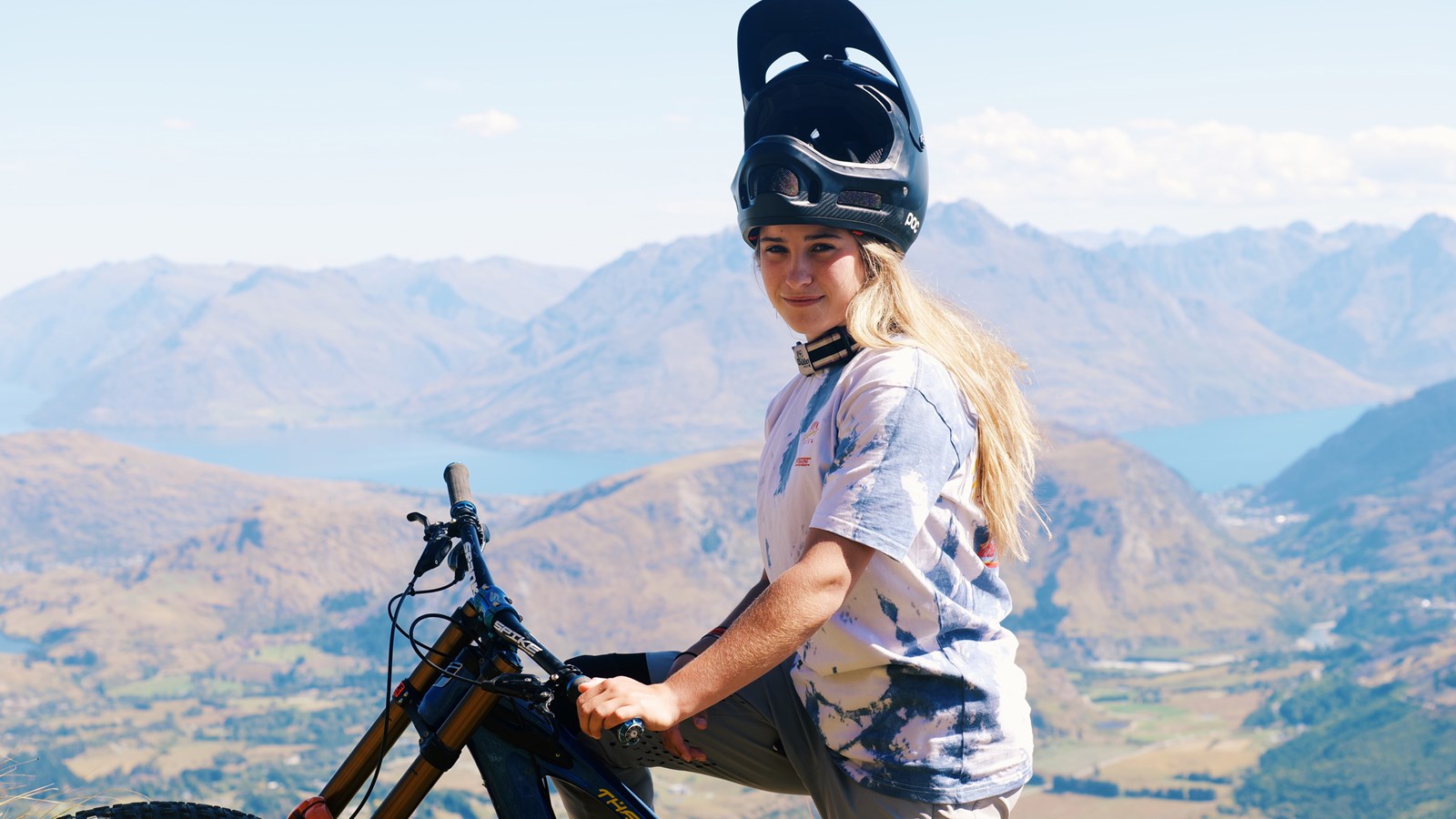 Downhill racer Jess Blewitt has been taking the New Zealand mountain biking scene by storm.
Our Mountain Bike Range
Our friends at Torpedo7 are set up at Coronet Peak over the summer with a full workshop to help you with any bike issues. They also stock spare parts that are available to purchase as well as a range of bikes, helmets and protective gear that is available for hire.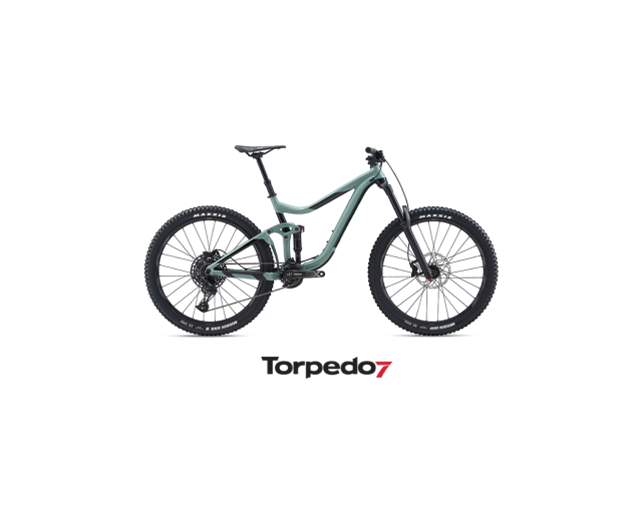 REIGN
Full suspension | Size s-xl
Our go-to enudro full suspension bike is the awesome Giant Reign! This bike will have you enjoying all the downs but is still light enough that the short pedal to Rude Rock will be no problem at all! This is the perfect bike for Coronet Peak riding. Size S-XL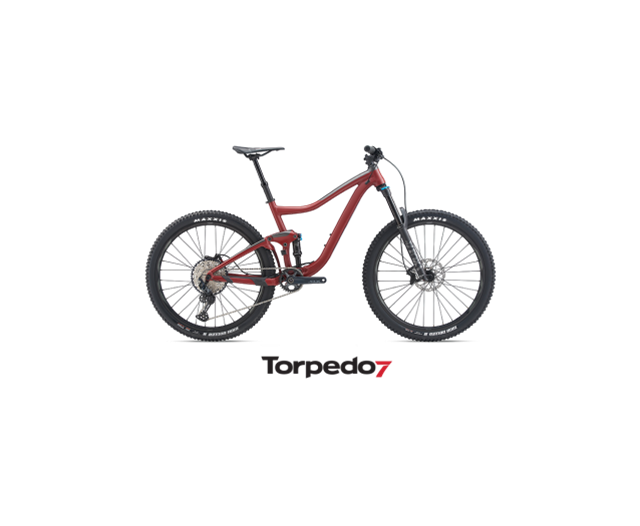 Trance
FULL SUPSENSION | Size XS-s
The Reign doesn't come in an extra small so for the slightly smaller rider we have the super fun Giant Trance! These are a little easier to handle with the same awesome spec and will have you ready to munch up everything the mountain has to throw at you. Size XS-S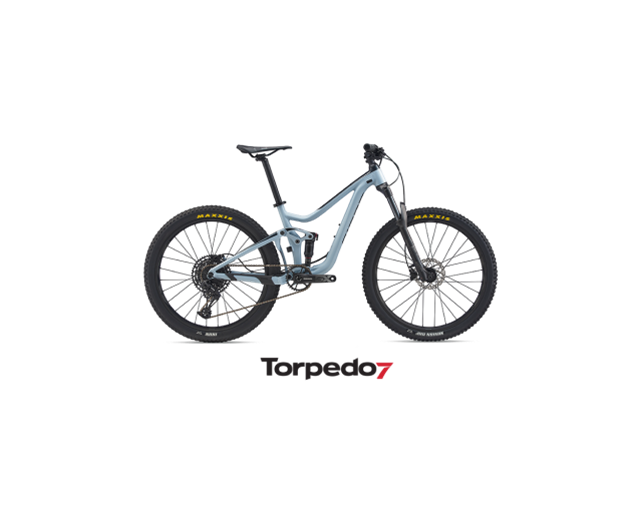 KIDS
FULL SUSPENSION | Size s-xl
Got little shredders with you too, we got you covered with 2 options. The KHS 24" and the Giant Trance JR 26" both will eat up all the trails on the mountain with suspension that is designed for use by lighter riders. Just be careful they don't start beating you to the bottom!!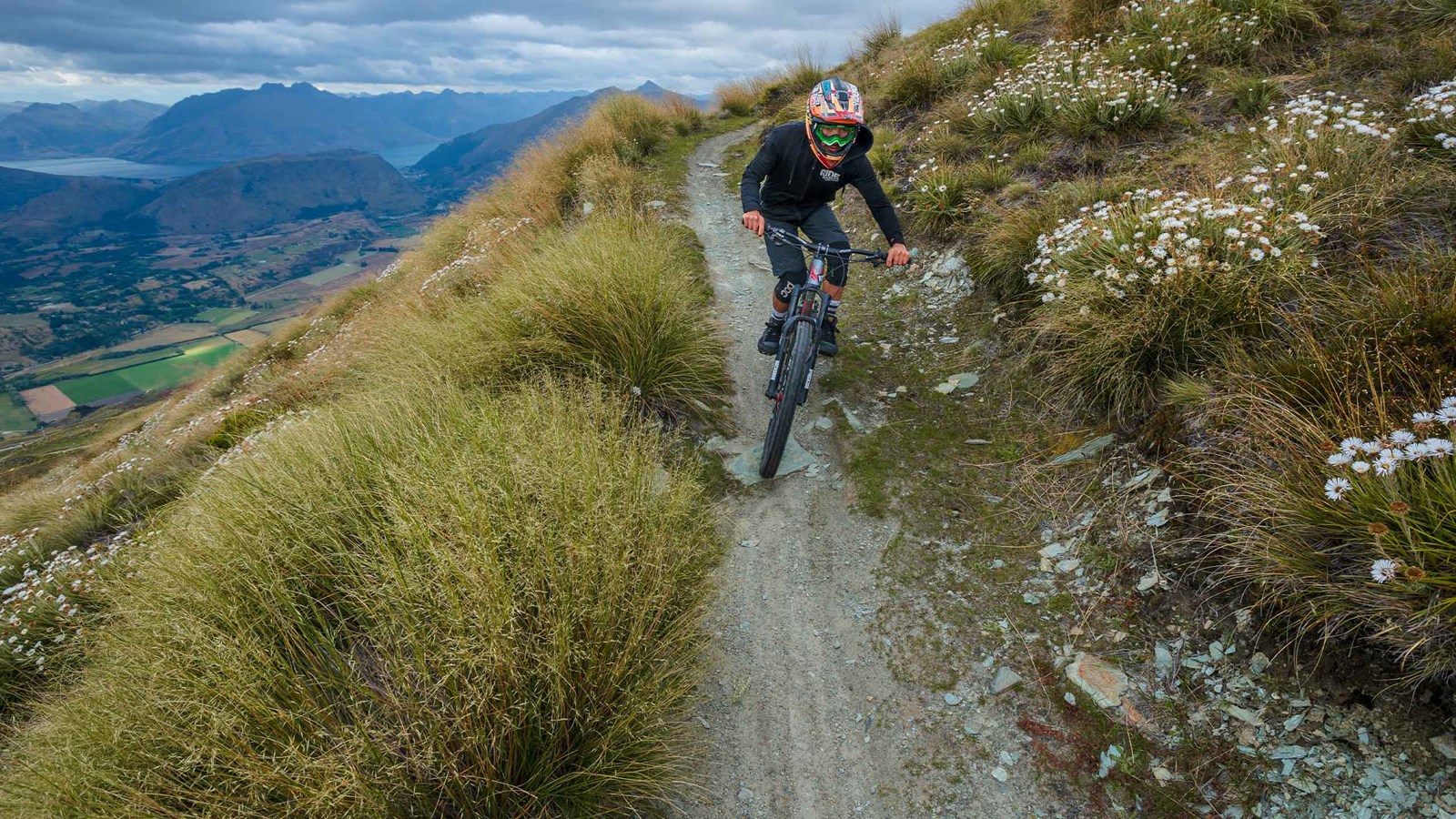 3 Peak and Mt Hutt Pass Holders
Our loyal winter season pass holders receive 15% discount on our range of summer products. Winter 2021 Pass holders are eligible for discounts in Summer 21/22.

Discounts will appear in your cart when you are logged in to your MyPass account.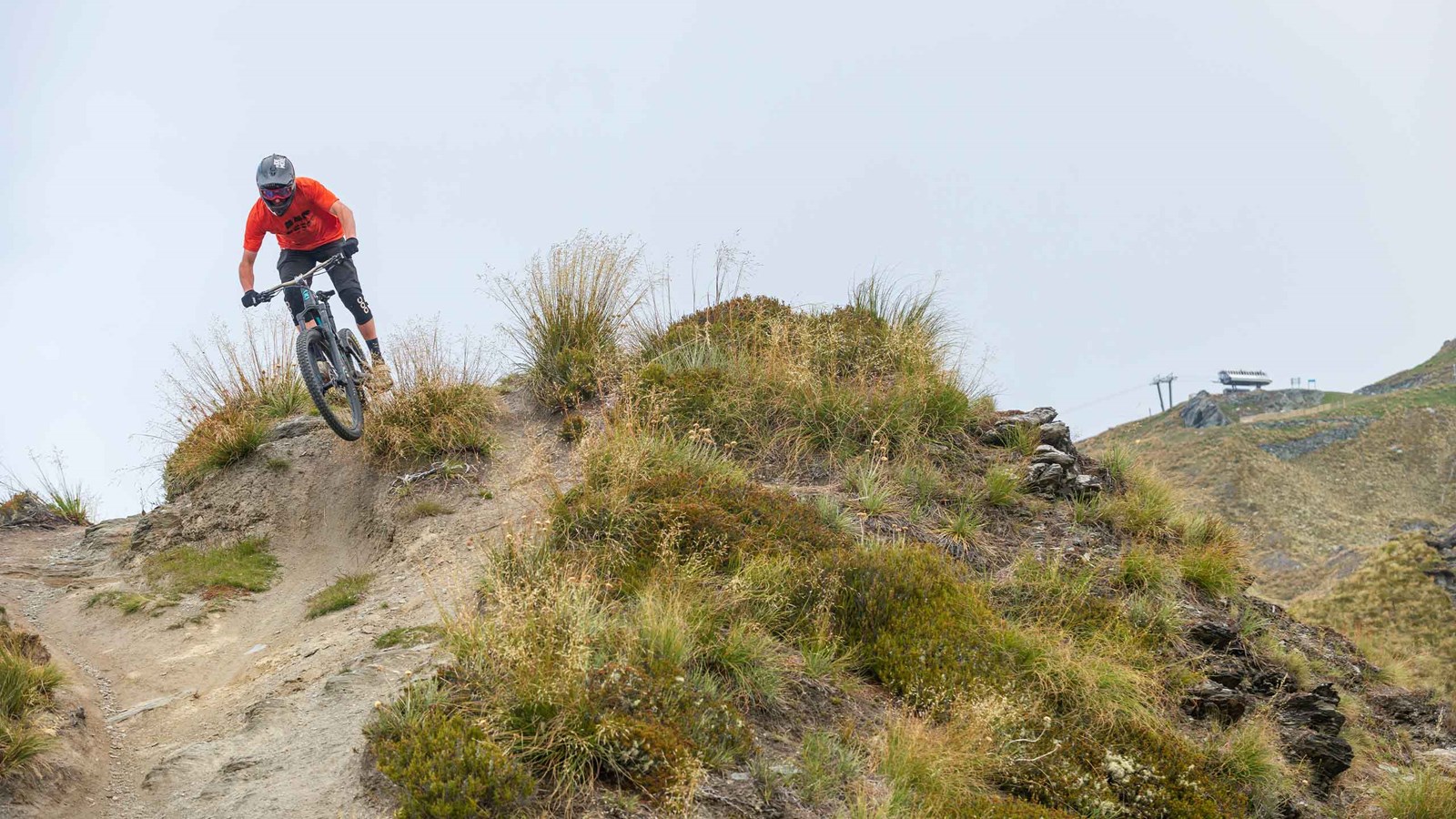 QMTBC and Bike Wanaka discounts
Current Queenstown Mountain Bike Club (QMTBC) and Bike Wanaka members are also eligible to receive 15% discount on our MTB passes.

QMTBC and Bike Wanaka discounts require proof of membership and can only be applied in person with one of our Guest Services Team.
FAQs
What time does the mountain open?
Coronet Peak is open from 10am – 4pm from Thursday to Monday. 

On Thursdays, we are open late from 10am – 8pm.
Lift and sightseeing facilities are subject to weather conditions. 
What trails can I ride?
Our trail grades are as follows:
Coronet XC - Grade 3
Upper Rude Rock - Grade 4
Coronet DH - Grade 5
Trails Accessible from Coronet Peak:
Rude Rock - Grade 4
Hot Rod - Grade 3
Slip Saddle - Grade 6
We recommend that you have some some sort of off road biking experience, as our trails are not designed for beginners. If you are unsure, have a look at MTB Trail grades or come and have a chat with us in store. 
How do I get there?
Getting to Coronet Peak is easy; we're the closest mountain to Queenstown and with a fully sealed road. We are only 16kms/20 mins from central Queenstown.
How can I hire a bike and/or helmet?
We've partnered with Torpedo 7 on-mountain for all your biking needs. They are located on the mountain or in town on the corner of Shotover and Camp Streets. The range available for hire includes a full-suspension bike, a full-face helmet, knee/elbow pads, and goggles.  
What kind of pedals are on the hire bikes?
All bikes are fitted as standard with flat pedals. If you would prefer, we do have Shimano SPD pedals which we can fit for you. 
Got your own pedals? Bring them with you and we will fit them on any bike free of charge. 
What is damage protection?
Damage protection is available for $10 per person and covers you for up to $500 of accidental damage to the bike.
What do I need to bring?
The Queenstown weather can sometimes give us all 4 seasons in one day so it is important that you are prepared for an alpine environment.  Please note there are no trees for shelter from the elements up here. 
We recommend you have sturdy footwear, bring sunblock, hats, and extra layers. And of course, don't forget your camera to capture the epic views! 
Forgot the sunscreen? Punctured your tire? Don't panic, our retail area will have everything to keep you covered. 
Can I get food on the mountain?
You bet! We've got Cafe 1200 located just next to the chairlift to keep you fueled and hydrated for an epic day on the downhill. 
Cafe opens at 10:00am.  
Our licensed facility is a great place to savour the local beers and wines after a day on the hill. 
Is there a workshop on mountain?
Yes! We have a workshop available on the mountain as well as a range of spare parts. So, if you have your own bike and the worst happens, then we are here to help!  
If you break something beyond quick repair, you can hire a bike and we can book your bike in with our mechanics in town, where we have a full workshop that can handle all types of repairs. 
When is mountain bike season?
Our mountain bike season starts on 11th December 2021 and runs through until 3rd April 2022. Subject to weather conditions. Closed Christmas day.