Spectacular roller coaster terrain makes Coronet Peak ski area one of New Zealand's most exciting ski resort destinations. As the home of Night Ski, Coronet Peak lights it up Wednesday and Friday nights from 4-9pm in July and August for more skiing after the sun goes down in Queenstown.
Gallery
Night Ski
A winter bucket list activity for Queenstown. Take in an amazing sunset over the Wakatipu basin before cutting laps on a floodlit mountain! Every Wednesday and Friday night from 4-9pm in July and August. It's après ski, Queenstown style.
Learn More
Getting Here
Getting to Coronet Peak is easy. We're just 16km from Central Queenstown on a fully sealed road. So drive yourself up or jump on our ski bus service, running from Central Queenstown to Coronet Peak throughout the day.
Learn More
Not Skiing? No Worries!
Coronet Peak is open to everyone, you don't need skis or a snowboard to have a good time up here. Hire a sled or Yooner for fun on the snow or get yourself to the top of Coronet Peak for amazing views with our Peak Gondola Pass.
Learn More
Snow Shop
Forget your gloves? Need a new helmet? Or just realised that your ski jacket from 1999 is a little dated? Our retail shop at Coronet Peak stocks the latest in ski gear to ensure you can ski or ride in comfort and style. We also sell medical supplies, sweets and chocolates and accept MyPass money.
First Tracks
Start the day with the mountain to yourself. From 8-9am Coronet Peak is only open to those with a First Tracks Pass. Carve untouched corduroy as the sun rises, finish it all off with a coffee from the Coronet Cafe.
Learn More
Storage Lockers
Worried about your gear on mountain? At Coronet Peak, we offer secure day storage with automated pay lockers. This is available downstairs in the base building and you can pay by credit card or EFTPOS. Hiring equipment from us on the mountain and coming back the next day? Save time in the morning with our overnight storage. Simply return your ski gear back to the Rental Department and we'll take care of the rest.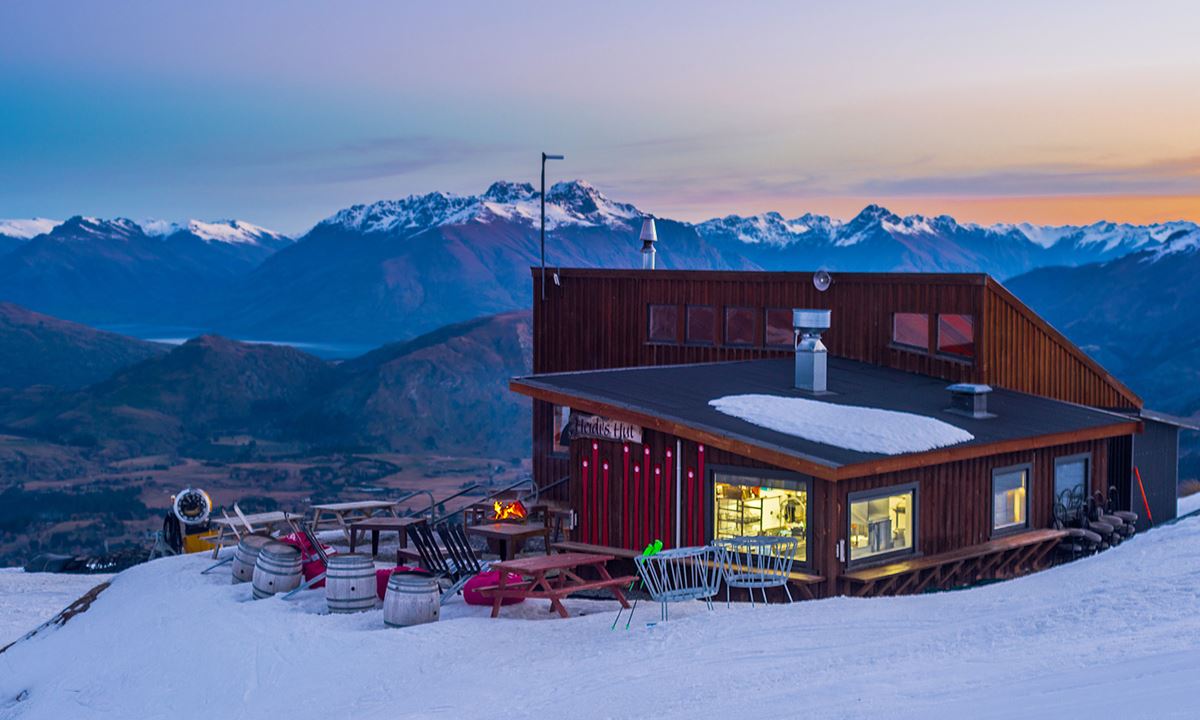 Heidi's Hut
Heidi's Hut
Open Wednesday to Sunday
Located at the base of the Rocky Gully T-bar, Heidi's Hut is a local secret for an Italian-style Après experience. Gourmet pizzas, pasta, breakfasts and soups are prepared fresh daily and complimented with a special selection of local Amisfield wine and craft beer.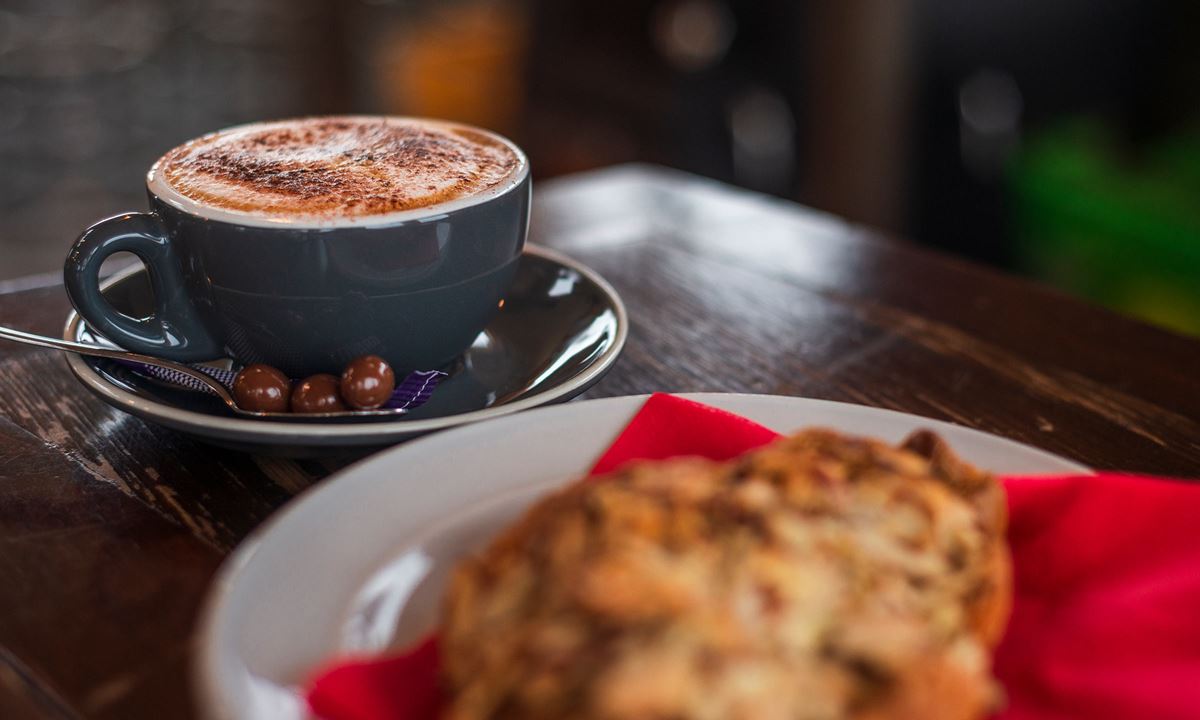 Coronet Cafe
Coronet Cafe
Breakfast: 7am – 11am Lunch: 10:30am – 4:30pm
When the sun is shining and you want to get back to the snow as quickly as possible, the Coronet Peak Café is the perfect place to grab a quick meal on the go!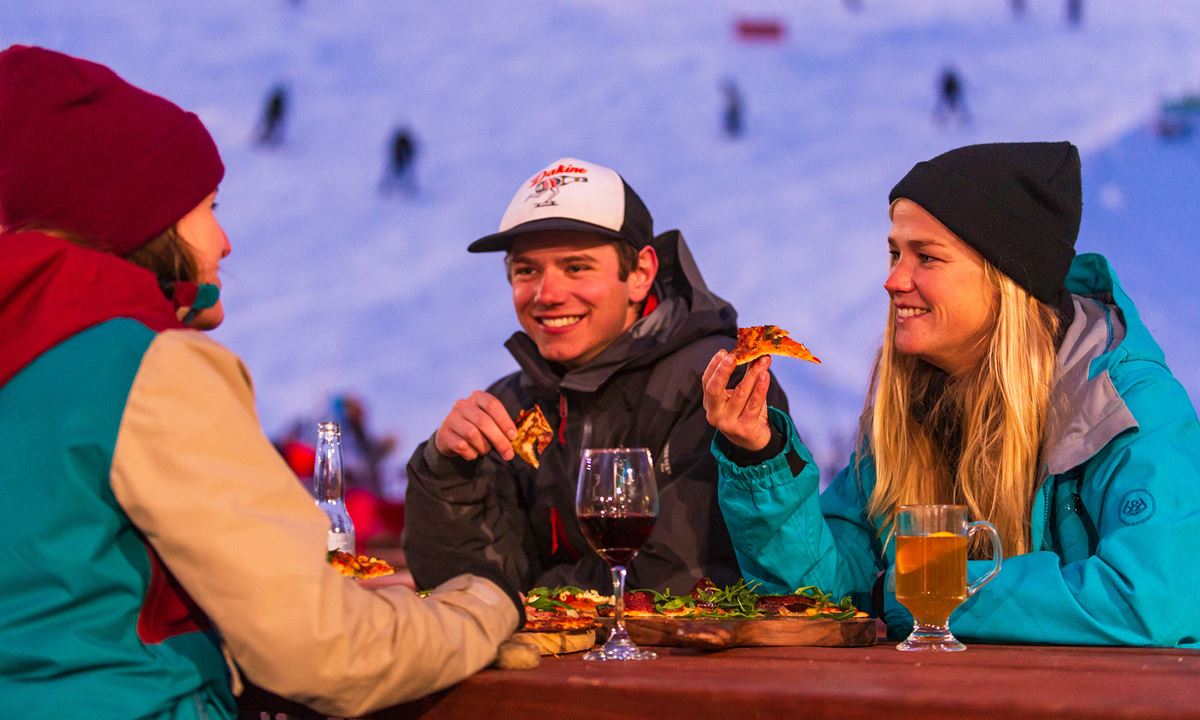 Coronet Restaurant
Coronet Restaurant
Open Daily
Breakfast: 7am – 11am Lunch: 10:30am – 4:30pm Night Ski: 4pm – 8:30pm Coronet Peak Restaurant offers a full breakfast menu, cooked to order for the early risers. For lunch, choose from a variety of global dishes. Wednesday, Friday and Saturday nights we serve a range of pizzas, burgers and food fit to share with your mates.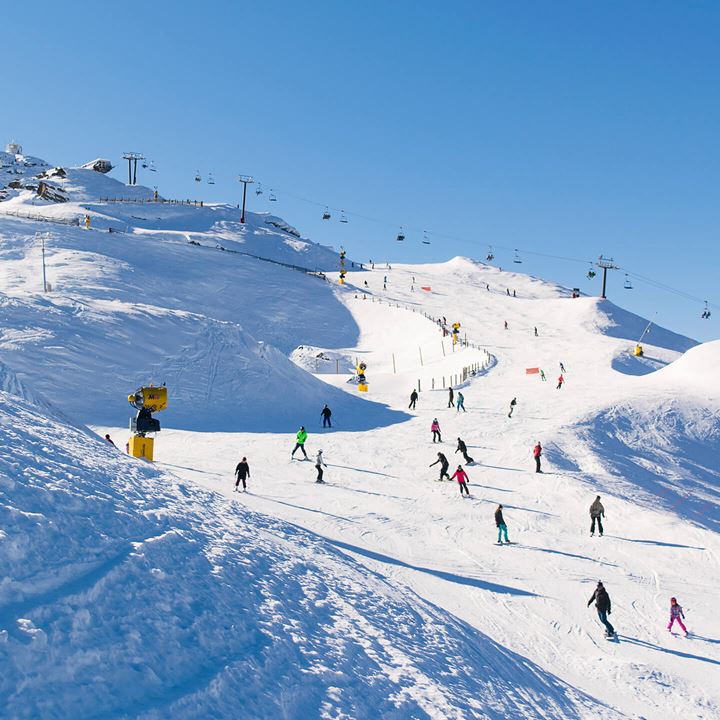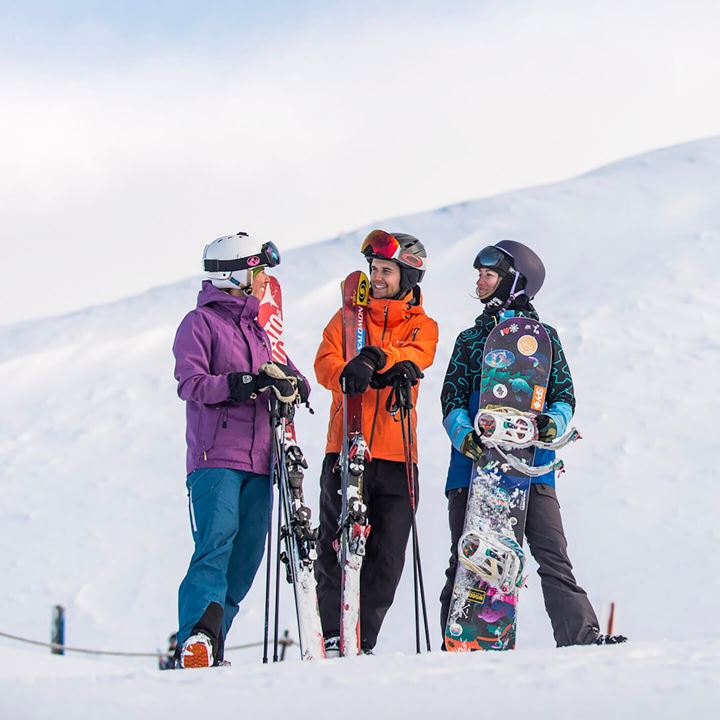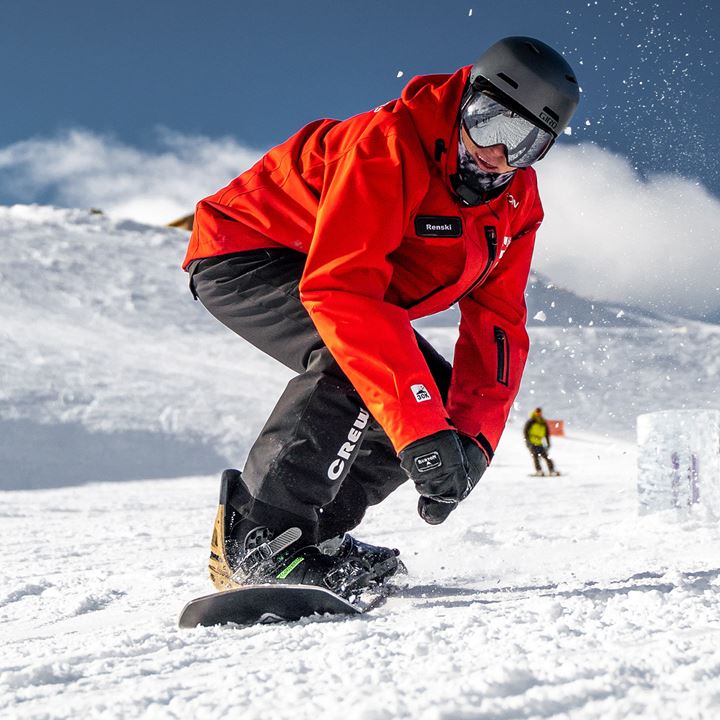 Instructor Programs
INSTRUCTOR TRAINING PROGRAM
Come and join us in beautiful New Zealand for an unforgettable ski or snowboard instructor training course in Queenstown or at Canterbury's Mt Hutt Ski Resort.
THIRD PARTY INSTRUCTING
All instructing and guiding at Coronet Peak is restricted to the instructors of Coronet Peak Snow Sports School.

All NZSki mountains including Coronet Peak hold an exclusive commercial operation concession from the Department of Conservation. Further action may be taken with anyone who is found to be instructing/guiding without written permission.

Third party instructing and guiding enquiries may be made to Coronet Peak Snow Sports School management

Email: michel@coronetpeak.co.nz
Meet Our Instructors
We've got an epic team of skilled and experienced ski and snowboard coaches in Queenstown across Coronet Peak and The Remarkables. Follow the link to meet the team.
FAQs
How do I get to Coronet Peak?
Getting to Coronet Peak is easy; we're the closest ski field to Queenstown, only 16kms away. You can either drive yourself or catch a ride on Coronet Peak's Bus transport from downtown Queenstown. If you are self-driving please check out our Safe Driving tips on our Transport Page. We provide return bus trips to Coronet Peak every day of the season and for Night Skiing on Wednesday, Friday and Saturday's (weather and conditions permitting) giving you a comfortable and safe option for getting to the snow.
When is the Ski Season?
The New Zealand Ski Season runs from June to October.
What hours is the mountain open?
During the season we open daily from 9am - 4pm weather permitting.
For early risers we offer First Tracks from 8am - 9am from early July - mid September.
Night Ski at Coronet Peak is available from 4pm - 9pm every Wednesday, and Friday night from late June to early September.
What is MyPass?
Your mypass card is your lift pass to ski and snowboard at Coronet Peak and The Remarkables plus you can add mypass money to your mypass card making it your on-mountain debit card. Your personal mypass account provides you with ability to add mypass money, view your daily skiing and snowboarding statistics and other account details.
Do I need to book?
We only require bookings for our ski and snowboard lesson products and programs. 

We also require advanced bookings for our Skiwiland Daycare products.
There is the opportunity to book on the day, however we we advise booking in advance to avoid disappointment as there is limited capacity. 
Can I get food on the mountain?
You bet! We've got restaurants, cafes and Ice Bars to keep you fuelled and hydrated for an epic day on the snow. Please note, we do not allow BYO alcohol on the ski field.
Does Coronet Peak have snow making?
We love snow, it's what we do. But when Mother Nature is a little shy we like to give her a hand.
We have 215 fully automated snow guns, supplied with water by 9 pumps from 4 pump-houses capable of flowing 330 litres per second. 5 reservoirs with a storage capacity of 285,000,000 litres.
We catch and reuse 80% of the water that we use. All this makes for the biggest automated system in the southern hemisphere!